Can Be Applied Almost Anywhere
Free & Easy 30-day Returns
Fast Shipping (2-5 days for U.S.A Orders)
For Effective Pain Relief On Any Parts Of Your Body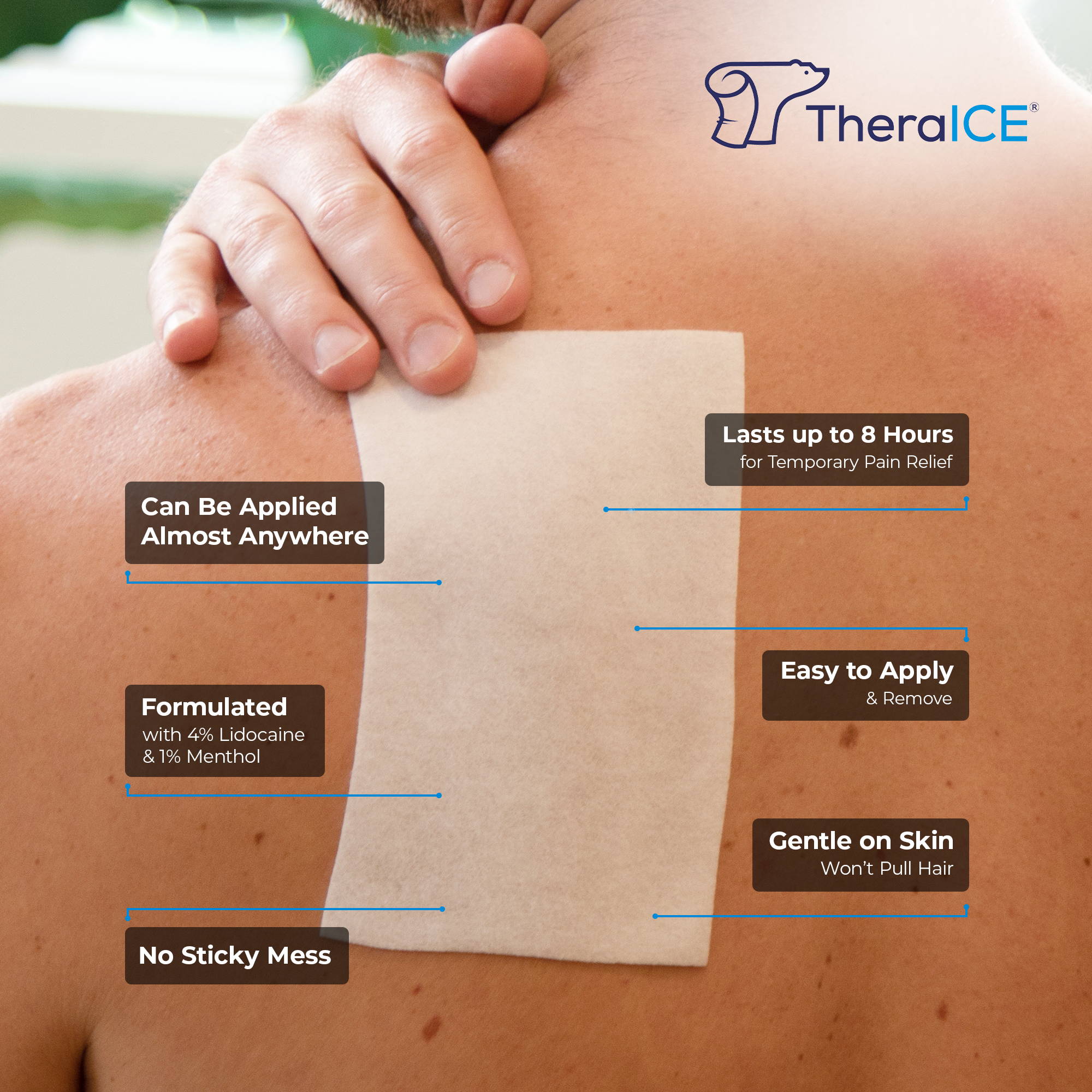 Unmatched Dual Action Relief:

 

Discover the powerful combination of TheraICE's Lidocaine Patches Plus Menthol. Designed with a potent blend of 4% Lidocaine and 1% Menthol, these patches offer maximum strength, providing comprehensive pain relief for your most persistent discomforts.
Versatile and Comprehensive Pain Solution:

 

These aren't just typical pain patches. Tailored as the definitive back pain patch, TheraICE's large patches are also adept at alleviating pain in the neck and shoulders. Whether it's from daily strain or specific incidents, TheraICE has got you covered – for the back, neck, and shoulders.
Large-Sized for Optimal Coverage:

 

Move past those undersized patches that scarcely cover the affected areas. Each Large Max Pain Lidocaine Patch from TheraICE offers ample coverage, ensuring the potent formula addresses and eases a wider range of discomfort effectively.
Superior Formula for Extended Relief:

 

Not all pain patches are crafted equally. With TheraICE's pain patches maximum strength lidocaine formula, you are promised not just immediate but long-lasting relief. Designed to offer deep and prolonged effects, these patches stand out as a go-to solution for consistent pain management.
Quality Assurance and Effective Pain Management:

 

Upholding the highest standards, each lidocaine patch is meticulously designed for an efficient and safe pain relief experience. With a pack of 7 patches, you're set for consistent and extended relief. The unique combination of lidocaine patches maximum strength 5 percent ensures that your discomfort is not just managed, but substantially alleviated, making each patch an indispensable ally in your pain relief regimen.
Reviews
What customer are saying:
This section doesn't currently include any content. Add content to this section using the sidebar.